HOME 〈 About FIA
ニュースリリース詳細
2017.09.26
Report:Global Community Cafe(September, 2017)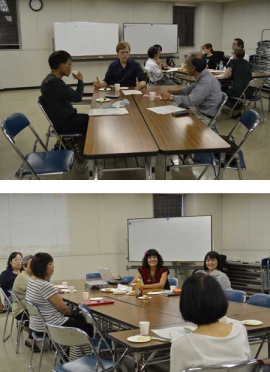 September's café's were a blast, with an introduction to Mexico, from the wonderful Liliana Takahashi, to the diverse racial backgrounds of our guest speakers of the English café from Canada, Ireland, and America.
 In the morning we learned about the bright and lively culture and livelihoods taking place in Mexico, while enjoying Mexican corn cake and churros! The topic for the English café was Gender Biases and Gender Equality, and it was fascinating to see everyone's answers to questions like "would you like to know if a baby is a boy or a girl before it is born" and "would you be different if you were born the opposite gender".
 It was a thought provoking day, and I hope our participants take each of our carefully thought out topics to heart, and deepen their understanding of the world. Next month we'll have our very first traveling café in Minami-Soma and we hope to see some new faces!