HOME 〈 About FIA
ニュースリリース詳細
2017.10.14
International Festival in Iizaka!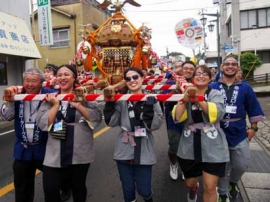 The first Saturday of October marks the annual Iizaka Kenka Matsuri, one of the top three fighting festivals in Japan. In order for the foreigners living in the prefecture to enjoy a traditional festival the Iizaka Rotary Club has set up the "International Festival in Iizaka" which they sponsor and hold every year. This year marked the 27th year since its implementation, and with a wonderful turn out of Fukushima University international students, foreign residents, and Iizaka residents, there was a total of over 90 people in attendance. The foreign residents got to carry a child's mikoshi around the town, and experience a long-treasured Japanese tradition. There were a few observations about the other shrines being on wheels and being pulled, but it provided more laughs than complaints. After touring the town by foot, the Yoshikawaya shuttle buses took everyone back to the hotel to wash their backs of sweat and rest their weary feet. It was just a quick taste of Iizaka's most famous onsen hotel (that the emperor has stayed at several times!) because there was a party with handmade bentos and karaoke and mingling to be enjoyed. At 5 in the afternoon, the shuttle buses took everyone back to the city centre so they could either head home, or jump right into the festivities for the main event, the Iizaka Kenka Matsuri, during which shrines but heads and fight for the most luck of the year.
 If you're around next year, try coming out and enjoying the various charms that Iizaka has to offer.