HOME 〈 About FIA
ニュースリリース詳細
2018.03.09
The JICA Consultation Services Counter is now open!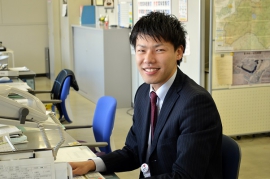 Mr. Akihiko Hoshi, who worked in Senegal as a part of JICA, has just touched down in Japan and begun working as the Coordination for International Cooperation at the Fukushima Desk of JICA's Consultation Services Counter .
A Message from Mr. Hoshi:
『Nice to meet you! I'm Akihiko Hoshi.
For 2 years from September of 2015 until September of 2017, I was dispatched to Senegal in Western Africa as a part of JICA (Japan International Cooperation Agency)!
The International Cooperation Promotions workers job is to be the information desk that connects people to the world, and provide support to those with an interest in international cooperation. "Fukushima and the World", "People and Localities", "People and People", I'd like to make many of these are the connections through my time here. Please feel free to contact me if you have any interest in international cooperation!』